Energy plans that give back.
AEP Energy has partnered with the Dublin Scioto Cheerleaders on an opportunity to provide their friends and family with the best energy supply prices, while at the same time giving back to the squad.
Enroll in an AEP Energy plan and we will donate $25 to the Dublin Scioto Cheerleaders. It's easy. Just enter your zip code, select a plan and we will do the rest.

You must enroll from this page in order for your organization to receive the donation.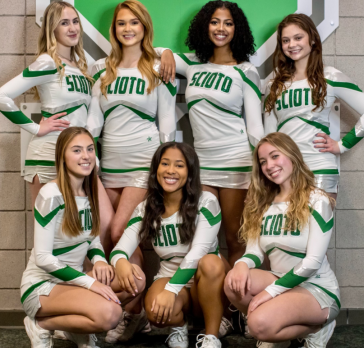 Thank you for
your support!
We value the communities we serve because we are a part of those communities, too. That's why we are passionate about giving back to the organizations who are a part of our lives.
Fixed Rate Plans

Stop paying variable rates that ebb and flow with seasonal demands.

Earn Reward Dollars

Redeem for smart home tech and supplies that help you decrease energy usage and reduce costs.

No Early Termination Fees

If you choose to cancel prior to the end of your agreement, most plans do not have an early termination fee.

Green Energy Plans

Energy plans that provide planet-friendly alternatives.

No Hidden Fees

Get the peace of mind that comes with always knowing what you're paying.

A+ Better Business Bureau Rating

Rely on the energy supplier that gets great customer ratings.
Hear from our customers
97% satisfaction rating among more than half a million customers.



In this day of rising cost, I was pleasantly surprised to find my AEP Energy rates would be dropping on my new agreement. The Customer Service Rep who handled my re-enrollment was very clear in explaining the new rates and terms available and the process was handled in a very short time on the phone. All my documentation arrived in a timely manner as promised. Very happy with the service.

Hank D.

Union City, NJ
AEP Energy beat my current supplier's price by a significant margin. Plus, the online enrollment process was as quick and easy as it could possibly be. After I enrolled, AEP Energy was quick to confirm my enrollment and has since kept in regular contact via email. I highly recommend AEP Energy.

Ray G.

Taylorville, IL
Upon the recommendation of my son, an international meteorologist, I chose AEP Energy for my electricity provider. I originally switched to receive low rates and no cancellation fees, but I was very impressed with the customer service I received when renewing my contract. I have since recommended AEP Energy to a close friend, who indeed signed on, and I will continue to encourage other friends and neighbors to switch to AEP Energy.

Brian T.

Lutherville-Timonium, MD
Great experience with AEP [Energy]! I love that they offer renewable energy which is why I initially chose to use this company. Everything is simple and straightforward, easy first time and re-enrollment process. Would highly recommend.

Katie W.

Philadelphia, PA
You should consider enrolling in AEP Energy as your natural gas supplier. They have a hassle free enrollment process and are completely upfront with their pricing.

Robert J.

Medina, OH
AEP Energy has been great! They send you a reminder when your current rate is about to expire and renewing at a new low rate on their website was extremely easy. There is a nice rewards program also and they send fun, informative emails out every so often. I am very pleased with my AEP Energy experience!

Katrina G.

Jefferson, OH
I have been an AEP [Energy] customer for several years. The company is very reliable, has competitive rates and no cancellation fee. I have told several family members about AEP Energy and they too have switched and they like it also. Their reward store is just another plus.

Barbara J.

Erie, PA
FAQs
Have questions? We have answers.
There is no equipment to install or any changes in wiring or hardware. You also won't experience any interruptions as a result of enrolling with AEP Energy and there will be no changes in your electricity delivery.

No, AEP Energy will take care of notifying the local utility. Enrolling with AEP Energy does not eliminate or cancel your current local utility service. You will remain a customer of your current local utility as they will continue to read your meter, send you one bill that contains all of your charges and provide maintenance and emergency services.

Switching fees are a cost imposed by your local utility (with the exception of Pennsylvania) that you may incur as a result of changing suppliers. However, AEP Energy will cover those charges. Please note – switching fees should not be confused with early termination fees. Many price plans do not include an early termination fee, however, please carefully review the terms and conditions of your contract.

In most cases, your service will begin on the next available meter-read date after your local utility accepts your enrollment. This typically takes up to 45-75 days after we receive your enrollment form. In Maryland, our service may begin as soon as three days after enrollment. You will receive a confirmation letter from your local utility that will provide your specific start date.

Renewable energy comes from natural sources that are infinite and constantly replenished, like sunlight and wind. Choosing renewable energy is a sustainable and environmentally-friendly way to power your home. Learn more about renewable energy and its benefits here.

Yes, our price plans will require that you enter into a contract. Your agreement will outline the terms and conditions including your price and term length, as well as cancellation and renewal provisions.

Many of our price plans do not have an early termination fee if you cancel prior to the end of your agreement. However, please carefully review the terms and conditions of your contract. In Pennsylvania, keep in mind that no supplier is allowed to charge an early termination fee during the last month of your agreement.
Ready to
give back?
Enter your zip code to view energy plans and enroll in a plan that makes sense for your home.
Prefer to Enroll Over The Phone?
This offer is only available online, but we're happy to assist you if you need help by calling 1-877-648-1930. You will be able to speak to an Enrollment Specialist at our U.S. based Contact Center.