Government aggregation. The power of community.
AEP Energy serves government aggregation programs in Ohio and Illinois that can help communities lower their energy costs by pooling together the purchasing power of residents and small businesses. AEP Energy can also provide communities 100% local renewable energy solutions.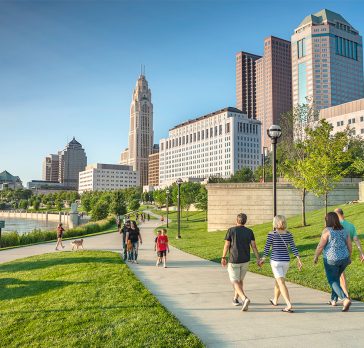 check eligibility
Government aggregation program eligibility.
The SOPEC Electric Opt-Out Aggregation for the City of Dayton is in progress until June 6, 2022. If you would like to join the program and have not received an opt out letter with program details, you may be eligible to enroll in the program beginning June 7, 2022. If you have any questions,  please call 1-877-648-1937.
Although most residents and small businesses will qualify for their community's government aggregation program, not everybody is eligible to join because of state rules. To find out if you are eligible, click the button below. If you are a City of Dayton resident or business and would like to participate in the electric aggregation program, you can enroll in the program starting on June 7, 2022.
PROGRAM BENEFITS
Benefits your government aggregation program can provide.
AEP Energy government aggregation programs can provide unique benefits beyond a low price.
Purchasing Power
Volume buying helps your community get better pricing.
Reward Store
Earn Reward Dollars to purchase energy efficiency products.
Budget Billing
Level what you pay for energy each month.
Clean Energy
100% clean energy.
Net Metering
Earn net metering credits from your solar system.
No Penalty
Residents and small business cancel anytime without penalty.
Get started today
Government aggregation program enrollment.
Aggregation enrollment is easy. If you want to join, visit the link below or call our Customer Care Team toll free at 1-877-726-0214.
My community is interested in government aggregation.
If you would like more information regarding AEP Energy's government aggregation programs, please submit an inquiry for your community through the link below to contact one of our expert representatives.