Back to the Blog
Is There a Better Energy Plan For You?
April 17, 2020
Fixed rate plans, like our Firm Price Plan, are a great option for businesses looking for a no-fuss energy plan. However, there are other options that might be a better fit for your business' needs. AEP Energy's pass-through plan can help you effectively manage your capacity and transmission demand-based costs. Our True Cost Plan allows your capacity and transmission costs to be passed through while your energy is 100% locked in for the duration of your contract.
It's important to pick an energy plan that meets your business' needs and AEP Energy is happy to help you do just that. Check out the flowchart below to see if your business could benefit from our True Cost Plan.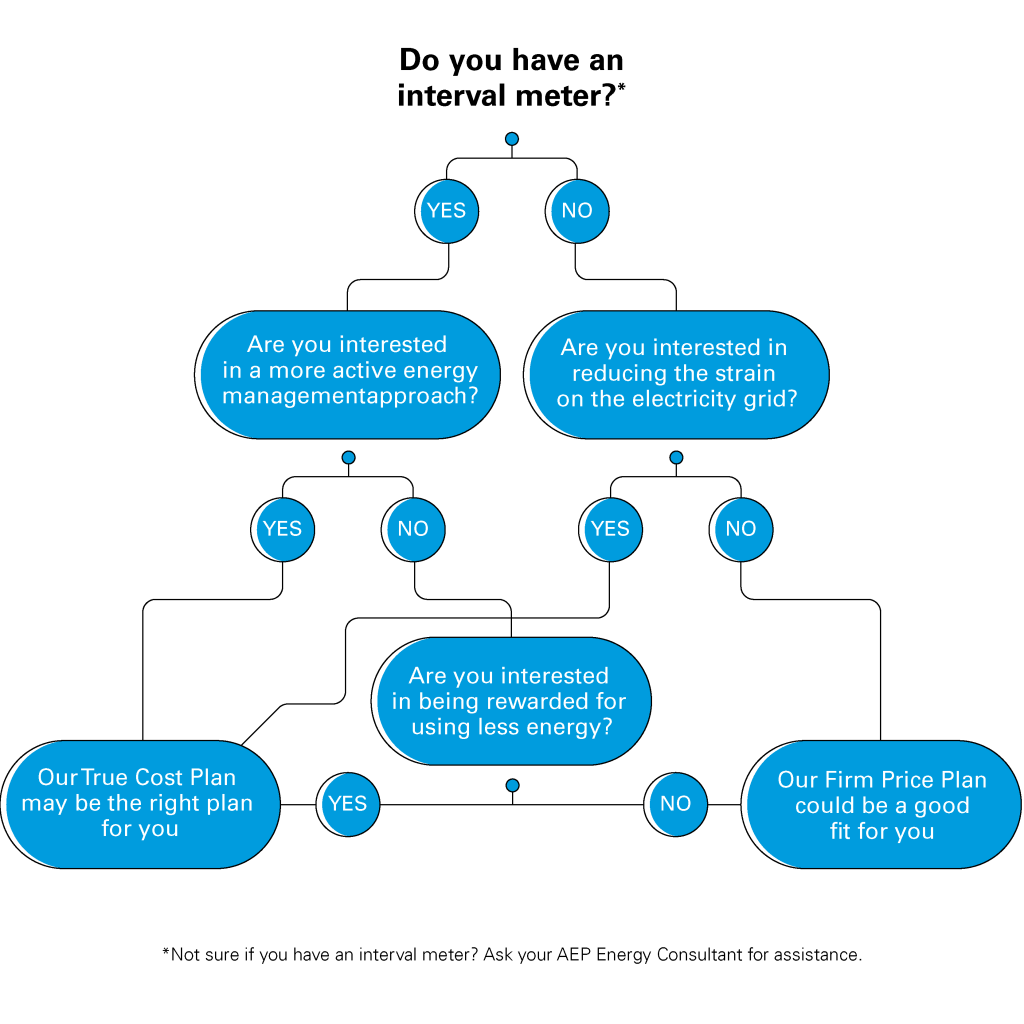 Our True Cost Plan might be right for you if:
You have an interval meter. Interval meters record your business' demand every fifteen minutes. This is especially useful in determining your Peak Load Contribution (PLC), which is determined by how much energy your business uses on the five coincidental peak days during the summer. AEP Energy makes it easy to know when you can reduce demand and receive savings by sending you alerts on peak days. While not required for our True Cost Plan, an hourly interval meter assures a much more accurate reading to determine your PLC tag than the generalized tag assigned to you by a standard meter.
You're interested in a more active energy management approach. Our True Cost Plan is perfect for the small business that would prefer a more "hands-on" approach to their energy supply versus a "set it and forget it" fixed plan. This approach means monitoring your energy more closely than with our fixed plan, but you could be rewarded in cost reductions on your bill for doing so.
You have a moderate risk tolerance. Many businesses benefit from the rewards of our True Cost Plan, however, if there are unexpected changes in the weather or if you use more energy than anticipated, those capacity and transmission costs are passed through to you, which could result in a higher charge on your energy bill. However, the opposite is true, as we explained above, which could result in savings.
You're interested in being rewarded for curbing your energy usage. Whether you're trying to manage your PLC tag or reduce your capacity, you could receive savings on our True Cost Plan.
Our team of energy experts are here to help you pick the right plan for your business. If you're interested in our True Cost Plan, contact our Small Business Energy Consultants at 1-877-648-1936. If you're already an AEP Energy customer, contact our Account Management team at 1-888-924-7111 to discuss renewal options.