Back to the Blog
Get to Know Field Sales
May 26, 2017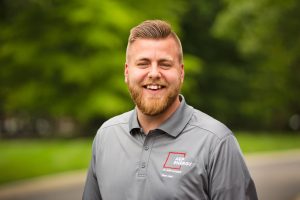 As an energy supplier, we find there is some confusion regarding suppliers and utilities. To help eliminate some of this confusion, we employ a field sales team that goes door to door, educating customers about energy choice.
Our field sales agents are educated by energy experts prior to knocking on your door. When they arrive to your home they take a consultative approach by using this same information to help educate you about energy choices for your home and business.
Dylan Coyle, Residential Field Sales Team Lead, explains the importance of the education and consultative process.
"At AEP Energy, our Energy Advisors understand the importance of educating customers on the benefits of energy choice. We appreciate our opportunity to represent a company that values the customer first and we take that into the field with us every day. We understand that without a proper understanding of their options, our customers aren't empowered to make the decision to protect their energy costs. Our main goal is to ensure that every customer we interact with feels educated on energy choice, confident in the product that we offer, and has their energy costs protected for years to come!"
To ensure the safety of our customers and legitimacy of our agents, we have a checklist of items that need to be completed prior to an agent arriving at your home.
We run background checks and drug tests for every agent prior to employment.
Every agent wears a Public Utilities Commission of Ohio (PUCO) required badge and must have a permit for the city that they are selling in.
You can verify the validity of an agent by checking their headshot and ID number at com/schedule.
Agents are provided with educational pieces that they can leave behind if you'd like more time to review and consider your options.
Agents are only allowed to knock on your door between the hours of 9 AM and 7 PM, unless local ordinances or regulations are more restrictive.
We currently have agents in Ohio and Illinois and we track their location via GPS. If you ever have a question or concern regarding an agent in your area, please don't hesitate to send us a message on Facebook or give us a call at 1-866-258-3782.