Back to Customer Insights
Understanding Energy-based vs. Demand-based Cost Components
March 03, 2017
January/February 2017 Edition: Let's review Demand-based vs. Energy-based cost components. Did you know spending a few minutes to better understand how energy purchasing works and the various components of energy supply costs can help your business reduce its energy spend significantly?
---
Market Overview
Provided by AEP Energy Trading and Managing Director of Energy Solutions
---
Natural Gas
Over the past two months as the market is focused on winter weather, natural gas was predictably very reactive to weather forecast changes. During December, natural gas surged on below normal temperatures and forecasts suggesting sustainable cold temperatures into the month of January. As January materialized, warmer forecasts for periods beyond the New Year's holiday sent natural gas prices plummeting.
At the end of December 2016, the prompt month (January 2017) natural gas contract at Henry Hub gapped higher by $0.372/MMBtu to close at $3.724/MMBtu, while the balance of the year (February – December 2017) was up $0.326/MMBtu to$3.618/MMBtu.
In contrast at the end of January, the prompt month (February 2017) contract dropped $0.607/MMBtu to$3.117/MMBtu and the balance of the year (March – December 2017) declined $.0343/MMBtu to $3.275/MMBtu.
At the end of December, the Calendar year 2018 was up $0.133/MMBtu to $3.139/MMBtu, however at the end of January, the Calendar 2018 was down slightly by $0.074/MMBtu to $3.065/MMBtu as the year on year spreads narrowed, significantly.
Power: PJM – Ohio
Similarly, power tracked with natural gas as it reacted to the weather changes. At the end of December 2016, winter on-peak at AEP – Dayton Hub (January-February 2017) pushed up $2.20/MWh to $43.60/MWh, while the remainder of 2017 was up $1.68/MWh to $37.99/MWh.
At the end of January, February on-peak AEP – Dayton Hub gapped down $10.25/MWh to close at $34.10/MWh, while the balance of the year (February –December 2017) was off $1.54/MWh to $36.00/MWh.
Further out the curve, at the end of December, 2018 delivery at AEP – Dayton Hub moved up $0.73/MWh to settle at $36.01/MWh. Later, at the end of January, 2018 delivery continued to increase by $0.68/MWh to$36.69/MWh on heavy buying from what may have been a single entity exiting the competitive generation space.
Power: Illinois
January 2017 average day-ahead LMP started the New Year with a 17.7% increase at $28.30/MWh to January 2016 day-ahead around the clock price of $31.40/MWh.
FERC approved transmission rates for Ameren's transmission company, ATXI, went into effect January 1. Ameren zone 4 Illinois customers will see an increase of 11.98% in 2017 from the 2016 transmission charges.
Ameren zone 4 Transmission rates effective January 1, 2017 is $35.12/kW-Year compared to 2016 rates of$31.46/kW-year.
In a somewhat unexpected action, FERC rejected the 3 year forward capacity proposal submitted by MISO for retail end users in Illinois and Michigan (for the 10% of shopping customers).
The goal of this proposal was to create more price stability through a longer term auction process for retail end users following the significant capacity cost increases seen in the prior annual auctions for the Illinois Zone.
One could anticipate MISO to refile and possibly try to have the longer term auction apply as an option for the rest of MISO's regulated jurisdictions (as a second option to the 1 year annual auction), but this may prove to be very unpopular with regulated entities as it has in the past. Regulated utilities are governed by their respective utility commissions when assuring they have enough capacity to meet their native loads. If new build is required in an area, a utility commission will decide if that utility should build the generation through normal integrated resource planning.
---
Understanding Energy-based vs. Demand-based Cost Components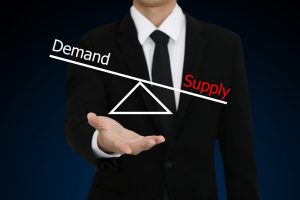 Although choosing a reputable retail energy supplier is essential, selecting the best product solution for your organization's energy needs is critical. Often energy buyers select the most basic product, missing out on opportunities for significant cost savings.
What's preventing energy buyers from selecting alternative price plan solutions? Clarity and understanding around the variety of cost factors and market conditions underpinning energy products may not be clear. Secondly, some suppliers don't take the time to explain how other product solutions may be more beneficial for your specific business.
At AEP Energy, we partner with businesses to help build smart and successful energy strategies. Taking a few minutes to better understand how energy purchasing works and the various components of energy supply costs can help your business reduce its energy spend significantly. Below we explain the ins and outs of what makes up your energy supply costs and why this information is important when it comes to selecting the right plan for you.
What cost components make up your supply cost?
When you begin to research and shop energy suppliers, it's important to have a foundation of what cost components make up your energy supply cost. These components can be broken down into two main categories: 1) energy-based cost components and; 2) demand-based cost components. We'll explain both categories in detail and demonstrate how you may be paying more with the all-too-common standard all-inclusive firm price that many competitors push.
Energy-based Cost Components
Electricity based costs are driven by your usage. This equates to 60 to 80% of your total cost. These costs are determined by how much energy you use and electric power purchased on the market.
Demand-based cost components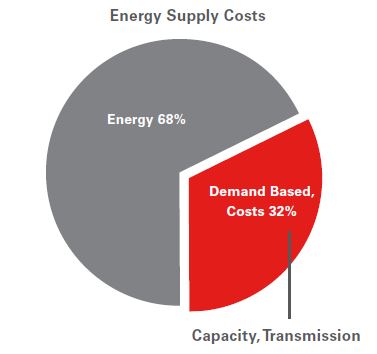 Did you know that demand-based cost components attribute to about 20-40% of your total energy cost? Your demand charges are calculated based on how much energy you use over a few hours of the entire year. This means 20-40% of your energy costs are driven by less than 1% of your total power consumption. The way you manage these costs may help your business reduce its energy spend and improve your bottom line. Let's start with explaining what the two primary demand-based charges are:
Capacity
Capacity costs are fixed for a year and are generally known three years in advance as auctions are held by the Regional Transmission Operators (RTO), such as PJM, and power generators. These costs are paid to power generators by electricity consumers to ensure generation supply meets demand during peak periods. Due to how capacity prices are determined, prices can change greatly year over year. They can also differ from one utility to the next and can vary by location. In addition to these costs, your individual Peak Load Contribution (PLC) is taken into account when determining your capacity cost.Many utilities calculate your PLC at the end of summer by taking your average demand level during the five highest demand hours for the entire PJM system. Once calculated, your capacity cost will become effective the following planning year beginning on June 1.
Transmission
Transmission costs are fixed for one year (or longer) periods to cover demand-based services purchased from power transmission companies. Fluctuating by utility, these costs are established by transmission owners, utilities, or the Federal Energy Regulatory Commission (FERC). Your transmission costs are determined by your individual Network Service Peak Load (NSPL) contribution and your utility's rate, also known as the Network Integrated Transmission Service
(NITS).

Individual Network Service Peak Load (NSPL)
This value is unique to each customer and is derived by identifying your business' energy demand level during your utility's transmission network peak. Your NSPL becomes effective January 1.
Network Integrated Transmission Service (NITS)
This value is specific to your respective utility and takes into account for all dollars spent on transmission projects and maintenance.
Why is this important?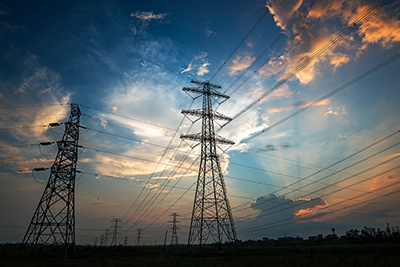 Some customers are more comfortable securing all their energy supply costs components with a standard all-inclusive firm price plan. However, what you may not know is that you could be paying a premium for this type of product. There are other price plan options that AEP Energy offers that allow you to pass-through your capacity and transmission costs so that you pay your exact true cost each month. This benefits you with possible savings in the event your PLC or NSPL decreases for an upcoming planning year within your energy contract.
Before you begin exploring options for your next energy contract consider these steps. Gather information from facility operations, organizational goals and objectives, and energy usage data. Take advantage of AEP Energy analytical tools to develop a customized solutions package, along with analyses to help you assess your cost savings and management potential. Lastly, AEP Energy will meet with you to explore the results of our analysis to identify your optimal purchasing strategy.
AEP Energy cannot ensure that the subject information is correct (and may need to rely on third parties to provide certain information). As such, AEP Energy makes no expressed or implied guarantees or warranties related to this information and the information provided in this Report is not a guarantee of any savings.