Back to Customer Insights
What's The Difference Between An Index And Firm Energy Plan?
June 10, 2016
July 2016 Edition: Selecting the right energy supply plan for your business may be a daunting task, but it doesn't have to be. While there are a variety of products to choose from, it's important to understand how each one works so you select the one that is most aligned with your business goals. We'll walk through the most common products available.
---
Market Overview
Jason Jarecki
---
June 2016 Power & Natural Gas Market Activity:
Natural Gas Price
The prompt month natural gas contract (July 2016 delivery in this case) jumped $0.541/mmbtu to settle on the highs for the month at $2.924/mmbtu.
The balance of 2016 (August 2016 through December 2016delivery) was up $0.425/mmbtu to settle at $3.039/mmbtu.
Future years were mixed, as 2017 was up $0.175/mmbtu to $3.180/mmbtu while 2018/mmbtu was actually down $0.015/ mmbtu to $3.022/mmbtu.
Ohio/PJM – Power Prices
Prices advanced throughout the term as summer 2016 (July & August) delivery for On-Peak hours at the AEP-Dayton Hub in Ohio was up $1.50/MWh to $40.30/MWh.
The balance of 2016 at the AEP-Dayton Hub in Ohio was up $2.35/ MWh to $36.13/MWh.
In the forward calendar years, despite mixed signals in natural gas, power was up for both 2017 and 2018 delivery as the former advanced $1.37/MWh to close at $38.10/MWh, while the latter advanced $1.12/MWh to close at $37.37/MWh.
Winter 2017 (January & February) saw the biggest gain; On-Peak hours at the AEP-Dayton Hub prices were up $3.15/MWh to $47.40/MWh.
As a notable data point, in Texas (referred to as ERCOT), summer hype significantly pushed up prices as July and August 2016 On-Peak hours surged $16.32/MWh to $66.90/MWh. This strength lifted summer 2017, as well; prices increased by $10.14/MWh to $70.55/MWh.
Illinois/MISO – Proposed Capacity Changes
In Ameren Illinois territory, the market is still digesting the power plant retirement announcements from Dynegy and Exelon; however pricing trends have followed the PJM markets with some warmer weather in the short term.
In MISO, Illinois is the only fully deregulated/customer choice electricity state.
Michigan has Electric Choice with 10% cap, meaning that no more than 10% of an electric utility's average weather-adjusted retail sales for the preceding calendar year may take service from an alternative electric supplier at any time.
MISO is currently proposing significant changes to the Illinois Capacity market (referred to as Zone 4) which would create a
three (3) year forward capacity auction similar to PJM to the east. Michigan may also be impacted. The rest of MISO territory (which is regulated and does not have customer choice), would remain the same as today, employing a one (1) year auction.
The hope is that this construct change will potentially reduce volatility for customers from year to year. Details are still being worked out by MISO (Midcontinent Independent System Operator). More to come.
Summary
Over the course of June 2016, power and natural gas markets have moved up modestly overall. The Midwest region experienced warmer weather temperatures. Following some of the recent retirement news last month from Exelon closing nuclear power plants in Quad Cities and Clinton, IL and Dynegy closing coal fired units in Southern Illinois; things have been relatively quiet since, especially going into the July 4th holiday. In MISO, attention should be paid to specific changes that will come out on MISO's new forward capacity construct for those customers impacted in Illinois and, potentially, Michigan.
---
What's The Difference Between An Index And Firm1 Energy Plan? 
Selecting the right energy supply plan for your business may be a daunting task, but it doesn't have to be. While there are a variety of products to choose from, it's important to understand how each one works so you select the one that is most aligned with your business goals. We'll walk through the most common products available below, but first let's start with your electricity bill and the various components that are embedded within the electricity price you pay from your supplier:
Energy – Electrical energy produced by generating plants
Losses – Electrical energy required to overcome resistance in utility transmission and distribution facilities
Capacity – Generating capability reserved for peak day requirements
Transmission – Capacity to move energy from generating plants to local utilities
Ancillary Services – Grid services required to maintain the bulk electricity system
Renewable Portfolio Standards – State mandated requirements for suppliers to purchase a component of their supply from alternative/green sources such as wind, solar,
and biomass
Miscellaneous other fees, such as taxes, billing fees, supplier margin, etc.
The largest cost contributor of these factors is energy – this accounts for 60-80% of the cost your supplier charges for your power. When selecting which product is best for your organization, you will generally have three options, which will be described below:
Firm Price/Full Requirements Plans
Firm Price Plans offer stable pricing over an extended term, avoiding any spot market purchases of energy. This plan is suitable for organizations that wish to limit their exposure to potential rising energy prices, and those seeking long-term budget stability as an overriding goal. There are generally three types of firm pricing options available, which include the following:
Standard Pricing – The energy price stays the same, no matter when you use it.
Seasonal Pricing – There is an energy price during the summer months (June- September) and a different energy price for non-summer months (October-May).
Time-of-Use Pricing – There is one energy price for on-peak hours and one price for off-peak hours (requires interval (hourly) metering). On-peak hours are typically from 7:00 a.m. to 11:00p.m. EST, Monday through Friday, excluding New Year's Day, Memorial Day, July 4th, Labor Day, Thanksgiving, and Christmas.
With firm price plans, suppliers take on risk by setting prices for the customer into the forward market. By doing so, suppliers may add a premium to those firm prices to cover their associated risks.

100% Index Plan
Another alternative is a 100% index price plan. Under this plan, all energy is priced based on spot markets operated by the Regional Transmission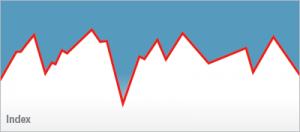 Organization. This product may be suited for businesses that can adjust their electricity usage according to current market conditions, or customers that wish to follow the spot market price of electric energy.
The index price will follow day-ahead hourly (also known as spot pricing). Spot pricing is operated by the Regional Transmission Operator, PJM or MISO. Prices are set for each hour of the day at a variety of locations, known as Locational Marginal Pricing. Locational Marginal Prices (LMP) are based on Nominated Generation Supply (Day-Ahead) or Available Generation Supply (Real-Time) and Forecasted Demand (Day-Ahead) or Actual Demand (Real Time). Many factors involve setting prices including supply, demand, emergency situations, and weather.
Block and Index Plan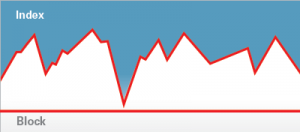 The Block and Index Price Plan is a mixture of longer-term (firm) and shorter-term (spot) pricing. This plan provides customer the flexibility to set prices for a portion of their energy requirements through individual transactions that set the price for a determined amount of energy (blocks) at the customer's discretion. The customer may purchase one block of energy, and then later decide the market is desirable to purchase a second or third block of energy, allowing them to secure positions against potentially rising energy market prices. Each block transaction may cover periods ranging from one calendar month to multiple calendar months; choose between On-Peak, Off-Peak, and Around-The-Clock (ATC) hours. Customers may also select between firm and pass-through components depending on your risk flexibility. Each block will be priced and transacted separately.
Block and Index pricing plans are well suited to customers that wish to maintain a balanced portfolio of forward- and spot-priced energy purchasing, not placing all of their energy purchasing decisions in either market. Also, the Block and Index plan is well suited for organizations that want to move beyond passive management of their energy commodity as it opens additional purchasing and power-cost savings options (such as load curtailment during high demand times).
Ultimately, organizations should first examine how they use energy, their risk tolerances, their cost objectives, and any budgetary and operating flexibility or constraints prior to selecting a product. Your AEP Energy representative can help you explore which product options may be best suited to your organizations objectives.
1 For Ohio only, pursuant to PUCO Case No. 14-568-EL-COI and PUCO guidelines, the retail electric product herein is being defined as "Variable".