Back to the Blog
When Is the Best Time for You to Buy Natural Gas?
February 11, 2020
Without a fixed price, you could be stuck paying fluctuating natural gas prices that are impacted by supply and demand, weather and more. If you haven't already, you can lock in a natural gas rate for your business by selecting a fixed price plan with your energy supplier, which is a sure-fire way to avoid fluctuating rates. But how do you know when is the right time to lock in your natural gas rate? This depends on a variety of factors including time of year and your business' tolerance to risk.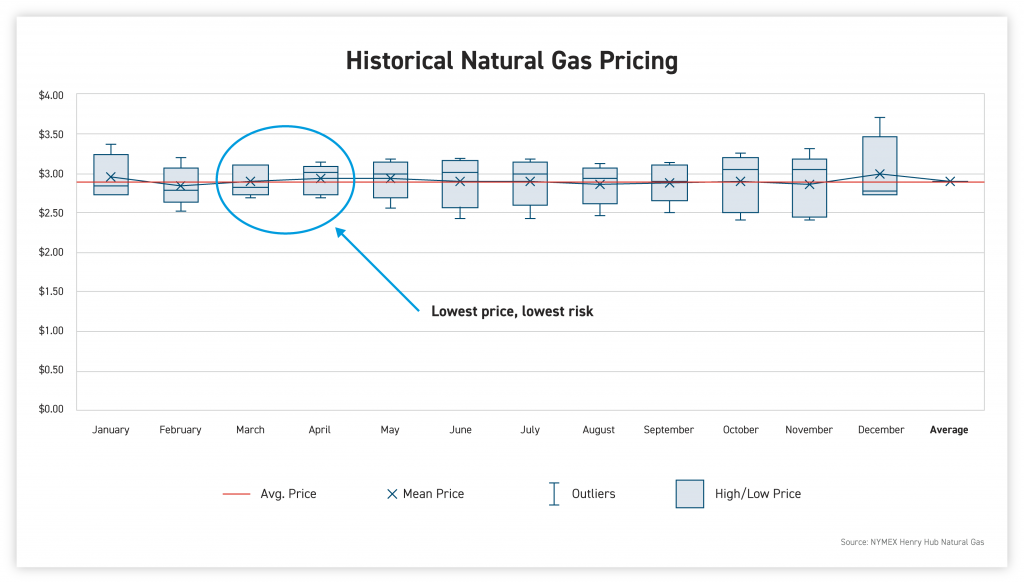 How to read this graph: The graph above reflects a spread of New York Mercantile Exchange (NYMEX) clearing prices for natural gas from 2015-2019. The top and bottom of the box for each month represents the highest and lowest recorded rate. The blue x represents the mean price and the red line represents the average clearing price over the four-year period.
What this means for you: According to the graph, if you're interested in a low-to-no risk option year-over-year, the best time to buy natural gas is March or April. This is when the pricing spread is narrowest, and pricing tends to fall at or below the four-year average. If you're interested in securing a lower price and you have moderate risk tolerance, then February, August or September may be the right time for you to secure your rate. During these months, there is a larger pricing spread than March and April, but there are outliers that represent the lowest recorded prices during the last four years. If you have a high-risk tolerance, then June, July, October and November could be the months for you. Based on the last four years, you could secure a one-year, all-time low contract, but with such a large spread, the next could be close to the all-time high, which could be a big gamble to take with your business' energy spend.
How AEP Energy can help: As you'll see, the best time for you to secure your business' natural gas rate is dependent upon your business' tolerance for risk. If you're looking for a low-risk option and a low price, March and April are typically the best months for that. AEP Energy's Firm Price Plan for natural gas secures a fixed rate for your business at a contract term length of your choice. Securing your energy rate while prices are low offers peace of mind and allows you to benefit from low market prices throughout the duration of your entire contract.
Contact our Small Business Energy Consultants at 1-877-648-1936 to see how you can take advantage of low natural gas market prices. If you're already an AEP Energy natural gas customer, contact our Account Management team at 1-888-924-7111 to discuss your natural gas contract and renewal options. 
AEP Energy does not guarantee the accuracy, timeliness, suitability, completeness, freedom from error, or value of any information herein. The information presented is provided "as is", "as available", and for informational purposes only, speaks only to events or circumstances on or before the date it is presented, and should not be construed as advice, a recommendation, or a guarantee of future results. AEP Energy disclaims any and all liabilities and warranties related hereto, including any obligation to update or correct the information herein. Summaries and website links included herein (collectively, "Links") are not under AEP Energy's control and are provided for reference only and not for commercial purposes. AEP Energy does not endorse or approve of the Links or related information and does not provide any warranty of any kind or nature related thereto. Forward-looking statements contained herein are based on forecasted or outlook information (including assumptions and estimations) but any such statements may be influenced by innumerable factors that could cause actual outcomes and results to be materially different from those anticipated. As such, these statements are subject to risks, uncertainties, fluctuating market conditions, and other factors that may cause actual results to differ materially from expectations and should not be relied upon. Whether or how the customer utilizes any such information is entirely its responsibility (for which it assumes the entire risk).