Safety Precautions We're Taking.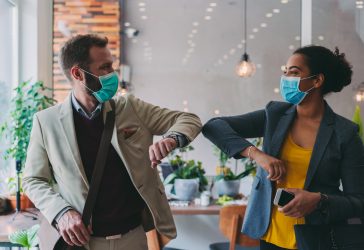 COVID-19
Your safety is our priority.
As we conduct sales for businesses located in Ohio, we are adhering to CDC and Ohio Department of Health guidelines and implementing a few additional measures to ensure the safety of our customers, employees and communities.
Before beginning their work day, our Ohio Field Sales team members will:
Complete the AEP Self Observation Checklist, which includes taking their temperature, checking for COVID-19 symptoms and more. If an employee checks "yes" to any of the items on the checklist, they will not be permitted to work.
When one of our Ohio Field Sales team members approaches your business, they will:
Immediately vacate your property upon your request.
Wear a face mask or approved face covering.
Maintain a distance of six feet during the visit.
Use hand sanitizer before and after your interaction.
Wipe or spray their tablet with disinfectant before and after each interaction.
If you'd like to enroll with AEP Energy while one of our Ohio team members is at your business, the following options are available to make the process as seamless and safe as possible:
Contactless enrollment – utilizes a tablet-based application that allows customers to view and sign the agreement via any internet-connected device with a valid email address.
Limited contact enrollment – without a valid email address, customers may still enroll by signing the agreement on the employee's tablet. The employee will sanitize a pen and their tablet prior to customer use. Once the signature has been completed, the customer keeps the pen and the team member will sanitize the device.
The AEP Energy Ohio Field Sales Teams meet weekly to review these processes and make improvements where applicable. If you have any questions or concerns about the safety measures AEP Energy is taking, please contact our Customer Care Team at 1-866-258-3782.