Back to Customer Insights
Using Innovative Financing Solutions to Enable Energy Efficiency and Technology Projects
July 31, 2020
Organizations can achieve cost savings and advance their energy sustainability objectives by utilizing the right energy efficiency and technology as project funding solutions.
In the current environment, all organizations are pressed to identify and capture new cost savings opportunities, while also enhancing the sustainability of their operations.
Reducing energy consumption and demand represents a logical and effective means for advancing both of these objectives. However, professionals with energy management responsibility have often been hard pressed to gain support for efficiency and technology projects that reduce energy consumption and demand. Typically, these projects have been viewed as 'non-core' and therefore have faced substantial internal investment hurdles.
Recently a robust marketplace of energy efficiency and technology project funding solutions has developed. Now organizations have at their disposal a substantial variety of options for financing efficiency and technology projects that positively impact their bottom line and move them forward on their efficiency journey. In this issue of Customer Insights, we'll take you through these options and what they might mean to you. From more traditional, relatively 'low-touch' equipment loans, to fully bundled technology subscriptions and Power Purchase Agreements (PPAs), energy efficiency and technology project financing options vary in their complexity, cost structures, balance sheet impacts, risk profiles and service enhancements. Each of these options is summarized below.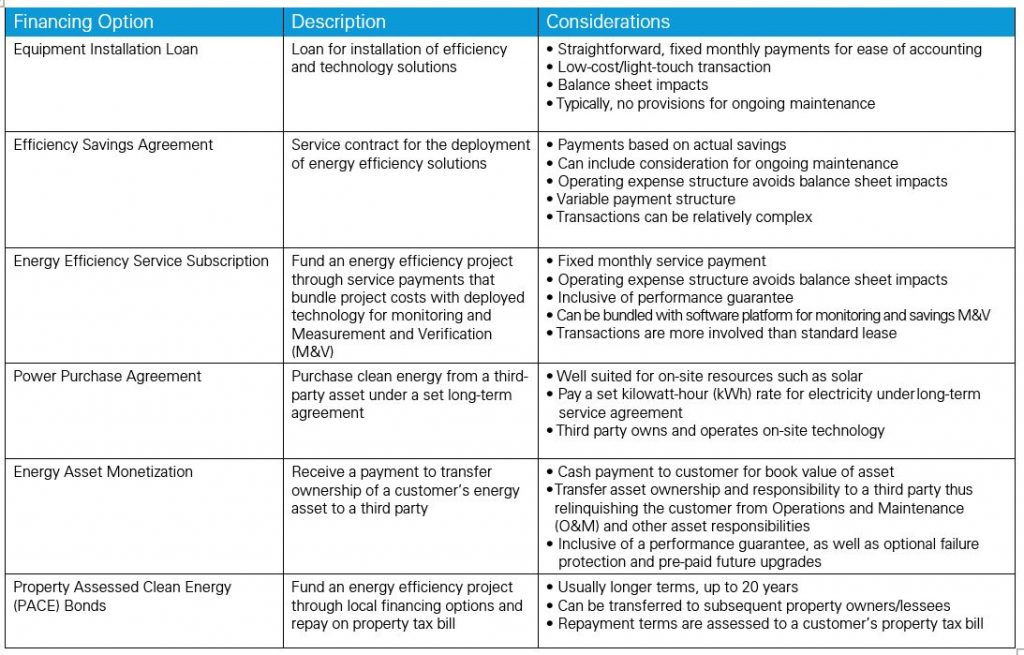 While this expansion of options provides organizations with more tools than ever before to realize cost savings and advance sustainability objectives through energy projects, there is of course a good deal of complexity associated with fully understanding, navigating and ultimately choosing the right project structure.
We're here to help.
AEP Energy will guide you through the project financing options that are best suited to your opportunities and organizational constraints and we'll work with you to develop a fully tailored efficiency and technology project solution. What's more, we can integrate the financed energy efficiency and technology deployment outcomes into a unified energy supply and load management solution.
Interested in learning more?
AEP Energy is excited to get your business on a new path to advancing your energy sustainability objectives. To learn more about available energy efficiency and technology project funding and structuring options, contact George Deljevic, Vice President, Energy Services at gdeljevic@ aepenergy.com or call George at 312-488-2238. If you are already working with an AEP Energy Sales Representative, they will happily provide more information about this approach. Not currently working with an AEP Energy Sales Representative? Click here to request a quote.