Back to Customer Insights
How Does Winter Impact Energy Prices?
January 11, 2017
December 2016 Edition: As we enter the winter season, it is timely to reflect on the significance of winter electricity costs and outline some significant structural changes in how the market views winter and summer months compared with other parts of the year.
---
Market Overview
Provided by AEP Energy Trading and Managing Director of Energy Solutions
---
Natural Gas
During the month of November, prompt month natural gas prices staged a rally after the market had previously been oversold.
The prompt month (December) Henry Hub natural gas contract hit a low of $2.722/MMBtu on November 9th, before rocketing higher to close at $3.352/MMBtu, up $0.326/MMBtu on the month.
The calendar years were mixed as 2017 rallied $0.140/MMBtu to $3.292/MMBtu.
Calendar year 2018 was down $0.020/MMBtu to $3.006/MMBtu.
Power: PJM – Ohio
Given weak liquidations and natural gas basis points under pressure primarily around the production regions, power was off in the front period. December 2016 delivery On-Peak AEP Dayton (AD) Hub declined $0.95/MWh to $35.50/MWh.
Winter (December/January) delivery declined $4.00/MWh to $41.40/MWh.
Further out the price curve, 2017 delivery AD Hub was down by $1.05/MWh to $36.31/MWh.
2018 delivery was close to unchanged at $35.28/MWh.
Power: ERCOT -Texas
In ERCOT, summer (July/August) 2017 was up $0.08/MWh to $54.47/MWh.
Summer 2018 was down $4.01/MWh to $51.80/MWh.
Power: Illinois
Exelon/ComEd's SB 1585 was passed and signed by Gov. Bruce Rauner after the House and Senate cleared the bill on December 1st.
The far reaching and complicated bill designed to save two nuclear plants from closing (seven late amendments added) will take effect in June of 2017.
It is expected to provide ~$200M of additional revenues for Exelon/ComEd to keep the Clinton and Quad Cities nuclear generation stations running.
Includes a significant expansion of energy efficiency programs administered by ComEd and Ameren Illinois. This allows ComEd to spend roughly $400M on energy efficiency investments.
The largest commercial and industrial customers would be eligible to opt-out of the energy efficiency charges and undertake their own programs.
Funding to support renewable energy in the state would go to build new wind and solar installations.
Rebate expansions were included for community solar, commercial and industrial installations.
No subsidies for Dynegy's struggling coal plants were included in the final bill.
Lastly, a peak demand based rate design that was initially proposed was not included in the final bill.
December prices will be very sensitive to any changes in weather forecasts as we inch closer to the critical winter period of January and February.
Winter Weather vs. Energy Prices
How Does Winter Impact Energy Prices?
As we enter the winter season, it is timely to reflect on the significance of winter electricity costs and outline some significant structural changes in how the market views winter and summer months compared with other parts of the year.
With some regional exceptions, electric demand and prices in the United States have generally been highest in the summer period, specifically July and August, due to the potential for significant air conditioning load. For decades, utilities, cooperatives, regulators and reliability coordinators have been most concerned about the grid's ability to meet peak demand obligations during these crucial summer months, ensuring there is enough electric generation available plus a reserve to handle existing customers, and any additional load growth.
Typifying this, below is a graph from December 16, 2013 detailing the average for ward value of electricity by month in the AEP – Dayton (AD) Hub market for 2018 delivery.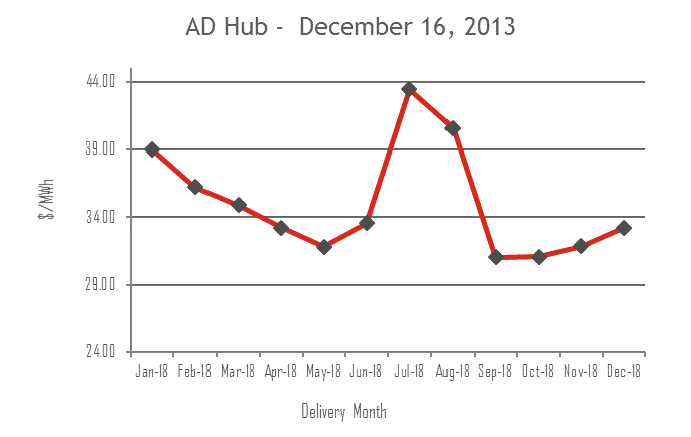 Displayed on the graph below is the historical monthly seasonality from 2004 to 2014.
January and February (winter) are relatively high due to expected electric heating demand.
March, April and May reflect subsequently lower prices as the Ohio region is expected to come out of winter into milder (shoulder) months. Some power plants may plan maintenance outages during this time in preparation for summer.
June shows an uptick as temperatures are expected to start increasing.
July and August represent the two highest months of electricity cost when air conditioning load is expected to add significant demand to the electric system.
September, in this case, is expected to be milder coming out of summer.
October, November and December reflect the expected impact of mild shoulder month weather and generation outages as power plants prepare for winter.
Most importantly, notice how the majority of value is concentrated in July and August. This represents fairly typical seasonal electricity prices of the expected cost of energy prior to the Polar Vortex of 2014.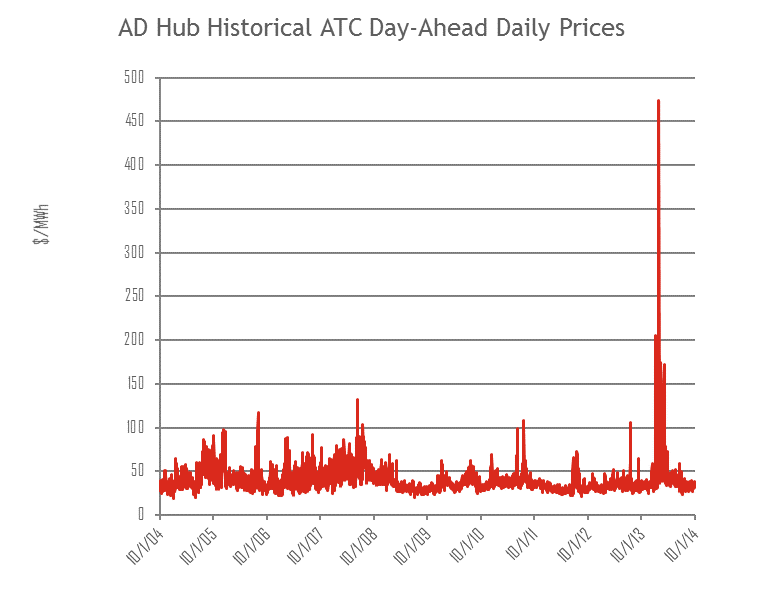 In January of 2014, electricity prices dramatically changed during the Polar Vortex. These impacts reverberated to the future outlook of energy.
Due to the extreme cold snap of 2014, roughly 20% of PJM's total generation was forced off-line.  Home heating demand of natural gas was so strong it usurped a significant portion of natural gas flow to power plants.  For several days, prices in many regions broke daily records soaring to several hundred dollars per MWh.
Following attempts by regulators to address the polar vortex, such as significant regulatory reforms to capacity and efforts to better streamline electricity and natural gas operations, the market completely changed how it views electricity in winter verses summer months.  Despite efforts to reform, the operational problems that were presented during the Polar Vortex still fear repeat by traders in the wholesale electricity market.  At the same time, the summer peak has become less of a concern compared to prior years due to more commercial and industrial customers having executed energy efficiency measures and are participating in demand response and capacity reduction programs. These programs have changed the way energy is valued over the course of a calendar year by removing some of the price spikes.
To visualize, the graph displayed below, from December 19, 2016, outlines these changes. It displays the average for ward value of electricity by month in the AEP – Dayton (AD) Hub market for 2018 delivery (essentially, three years after the first AD Hub graph previously shown).
So what do these "seasonality" changes mean for consumers?
With so much of the cost of electricity now concentrated in the winter months, weather models and forecast changes have considerable impact on energy costs in the short term. Sudden changes in weather outlook can create significant volatility for consumers. A trusted supplier can gelp you avoid these sensitive periods when timing your energy purchase.
For those consumers exposed to market on index pricing during the polar vortex, it was very painful being exposed to those price spikes. Yet, given lower overall market prices, index is very popular, and rightfully so for those willing to take that risk. For those on index, it is still important to realize that price spikes like the vortex can still happen. While prices have been bearish, the wholesale market still believes it can happen again (as evident by the way the market values winter today), so collectively we all should be prepared, if in fact, a vortex does occur again.
Bravo to those of you who are eligible and have already executed on energy efficiency strategies, demand response, capacity and transmission reduction programs where applicable. The reduced costs in summer months are partly a reflection of these types of initiatives.
If you need assistance or have questions on any of these programs, please consult your AEP Energy representative to assess your participation.